Warehouse and Distribution Cooling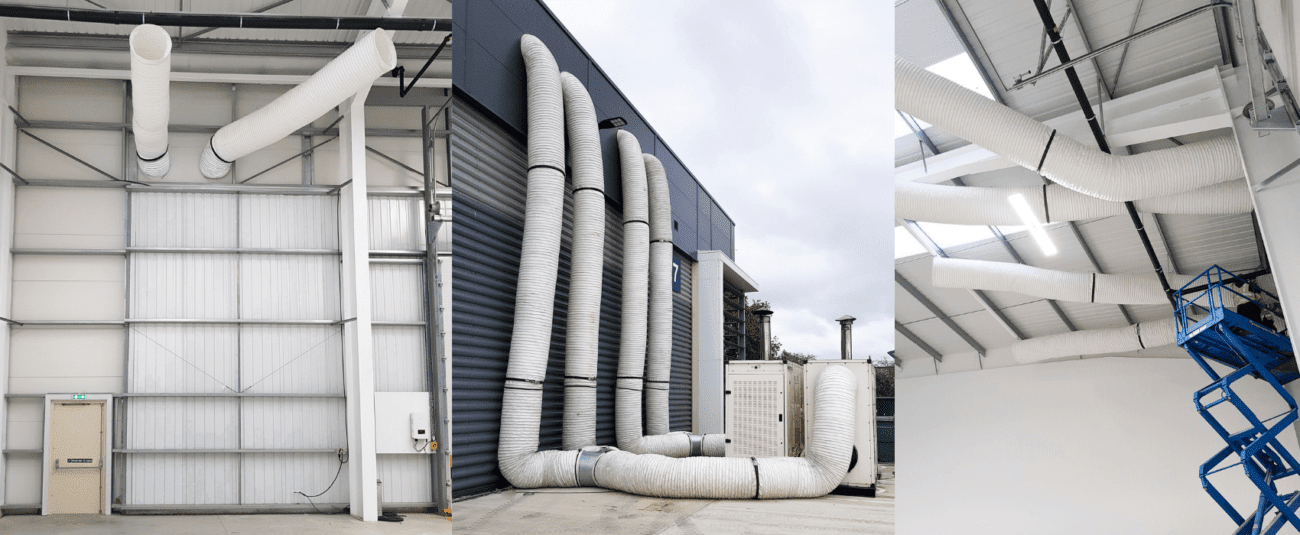 Warehouse cooling is vital during the summer; especially where in areas where equipment adds to summer temperatures. There is no law for maximum and minimum working temperatures, however, guidance suggests a minimum of 16ºC or 13ºC if employees are doing physical work. With the government website stating 'During working hours the temperature in all indoor workplaces must be reasonable.' Acclimatise have expert teams and an extensive fleet of cooling units to create a suitable temperature for workspaces.
Our large modern fleet offers a range of solutions from portable air conditioning units to large chiller units – suitable for large warehouses with sizeable teams as well as small warehouse units or storage facilities requiring individual cooling.
How to cool a large warehouse with chillers:
Our fleet consists of units with varying output capabilities; up to 750kW – and with the ability to pair to build multimegawatt packages.
Bespoke cooling solutions can be designed and installed by our expert teams of engineers who can cater to the individual site requirements. Our team can carry out a free site survey to specify units required to achieve results.

Portable Air Conditioning units:
We have a UK exclusive partnership with Coolspace; who have created an unrivalled fleet of evaporative coolers from the Coolspace Wave and Flurry ideal for small areas or spot cooling to the Coolspace Avalanche and Blizzard; well suited to for large areas and industrial settings.
Our Coolspace Avalanche 36 and Blizzard 48 are ideal evaporative units for large areas and industrial settings. Exceptional cooling capabilities with simple installation; requiring either a constant water flow from a domestic hose point or manual water fills with the 174 litre reservoir tank. Often referred to a swamp coolers these units work by pulling warm air through a series of pads and evaporating the water supply to blow out cold evaporated air.
The Coolspace Tall Boy units offer superior cooling and can effectively cool individual work spaces effectively. These portable units would benefit spot cooling requirements with complete mobility; featuring wheels to easily manoeuvre into place and the option of using its large reservoir tanks to avoid pipework in busy workshop environments.