Factory Heating Solutions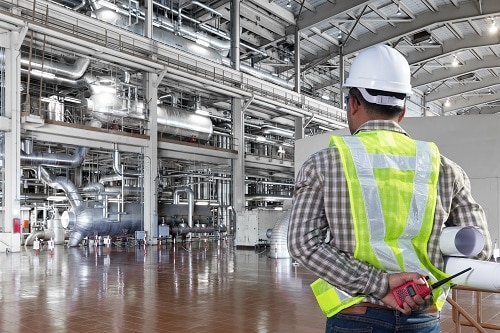 Factory heating can present a real challenge. Machinery produces heat, meaning that the temperature map of a factory can be very unusual, with both hot and cold spots in odd locations.
For employees working in this space, the dramatic rises and drops in temperature as they move around can be very uncomfortable so it's important to try and even out the ambient temperature.
Warm air heating is one of the most beneficial solutions for factory heating because of the inbuilt fans actively moving air around the space. Heaters can be strategically placed on walls or floors in cold spots to raise the temperature while the flow of air moves and evens out the further-flung hot spots.
The placement of these heaters is the key to success, as well as other factors such as dense racking or cooling fans in your machinery that might interrupt the airflow or change its course.
In spaces with high ceilings, one of the other most encountered issues is rising heat, leaving your employees uncomfortable at floor level. Destratification is essential to heating efficiency and maintaining a more eco-friendly space, with ceiling hung fans redistributing hot air down.
Here at Acclimatise, we offer free site surveys to tailor your factory heating solutions to your specific space. We're one of the UK's leading temporary temperature control and air handling service providers but offer our services in Europe as well.
We have a range of heating solutions that include, but are not limited to boilers, oil-fired heaters, and electric heaters in a range of sizes and powers to cater to any space. If you're interested in discussing with one of our experts about factory heating solutions, or any of our other services, please call us on 01782 595 969 or email sales@acclimatise.net.